Q. 57 - Respondent's country
LTCOVID.com
Thanks for visiting!
To translate this page, select your
language from the dropdown menu below:

Unfortuantely, this question was added to the questionnaire only several days after it's initial formulation and use.
Those who had provided an email address were contacted after their first responses and additions made.
So the country for 62 respondents are missing. 75 responses have been obtained for 'country'.
The 3 questionnaires set apart for quality reasons were not in these 75. So perhaps still of use.
Were these 75 different in their responses from the sample from which they are drawn?
Probably not.
Here below, the variables for this sub-group with country information were quite similar to the complete respondent group.
So they may still serve to search for response patterns that vary from one country to the next.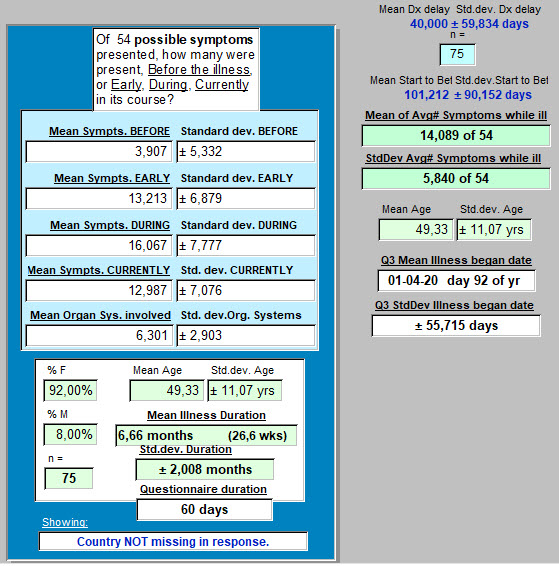 Again, of more use when looking at sub-groupings of the larger sample.
Confession of our misdeeds is good for the soul.
<<<< Previous page
Q. 58 - Respondent advice to others with "long-term" COVID-19 >>>>>
Membres qui aiment ce contenu