Q. 38 - Symptoms EARLY (during the first 3 to 7 days) of the "long-term" COVID-19 illness
LTCOVID.com
Thanks for visiting!
To translate this page, select your
language from the dropdown menu below:
No respondents skipped this question. 16 added additional responses to it.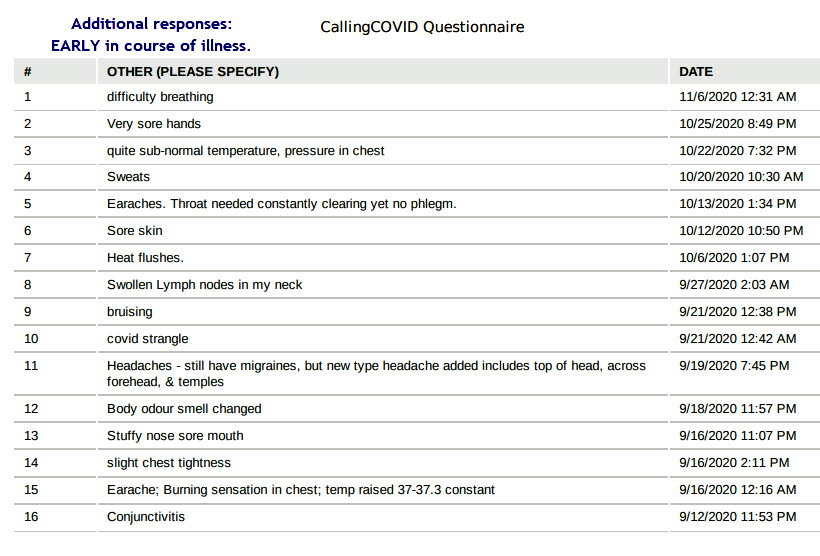 "Marked fatigue" that had been present at #7 on the BEFORE list of the preceding question is now #1.
How does our list and its frequencies compare with what is reported in the literature?
"An observational study of 1 420 patients with mild or moderate disease indicated that the most common symptoms were headache (70.3%), loss of smell (70.2%), nasal obstruction (67.8%), cough (63.2%), asthenia (63.3%), myalgia (62.5%), rhinorrhoea (60.1%), gustatory dysfunction (54.2%) and sore throat (52.9%). Fever was reported by on 45.4% [2].
The latest International Severe Acute Respiratory and Emerging Infections Consortium (ISARIC) reported on 25 849 hospitalised cases of COVID-19 across a broad clinical spectrum. The five most common symptoms at admission were history of fever, shortness of breath, cough, fatigue/malaise, and confusion (N=25 849) [3]. An analysis of data from 4 203 patients mostly from China identified fever, cough and dyspnoea (80.5%, 58.3% and 23.8%, respectively) as the most common clinical symptoms, and hypertension, cardiovascular disease and diabetes (16.4%, 12.1% and 9.8%, respectively) as most common comorbidities [4].
A study among 20 133 hospitalised patients from acute care hospitals in England, Wales and Scotland identified clustering of symptoms with three common clusters: one respiratory symptom cluster with cough, sputum, shortness of breath, and fever; a musculoskeletal symptom cluster with myalgia, joint pain, headache, and fatigue; a cluster of enteric symptoms with abdominal pain, vomiting, and diarrhoea [5]. Twenty nine per cent (5 384/18 605) of patients presented with gastrointestinal symptoms on admission, mostly in association with respiratory symptoms, while 4% of patients presented with only gastrointestinal symptoms. Olfactory and gustatory dysfunction have been identified as common symptoms with a 52.73% pooled prevalence across 10 studies with a total sample size of 1 627 patients from North America, Europe and Asia [6]. Similarly, altered taste sensation was found among 49.8% of COVID-19 patients in a pooled analysis of five studies with 817 patients [7]."
While this helps with making some initial comparisons, it does not address how many symptoms are commonly present early in the course of illness.
For this group of 132 respondents the average number of symptoms reported EARLY in the course of illness was as follows:

When modeling early symptoms of COVID-19, Joseph Laren et al. used a Markoff Chain and STochastic Progression Modelling to learn that Fever, Cough, Sore Throat, Headache, Myalgia, Nausea/ Vomiting & Diarrhea were the most prevalent symptoms and in that order.
While these appear in the list of responses to this question, so do many other symptoms.
Many are poorly represented in other studies of symptomatology in COVID-19 illness. In our responses 67% had shortness of breath early on. In most studies, this is not an early symptom.
Memory problems, Nerve pain, Tinnitus, Blurry vision, Nail changes, Hair loss while varying in frequency in these responses as examples of early symptoms, are not frequently reported in the literature.
The average number of symptoms presented above as its mean with its standard deviation, is unusual.
Is it significantly different from the number present before becoming ill with COVID-19?
No statistics needed! The answer is yes, but if one prefers, a t-test value of -12.52 and a p = <0.00001.
Let's see how this list eveolved DURING the "long-term" COVID-19 illness.
Membres qui aiment ce contenu