Q. 16 - Nutritional supplements, including Vitamin D: use before
LTCOVID.com
Thanks for visiting!
To translate this page, select your
language from the dropdown menu below:
Two respondents skipped this question.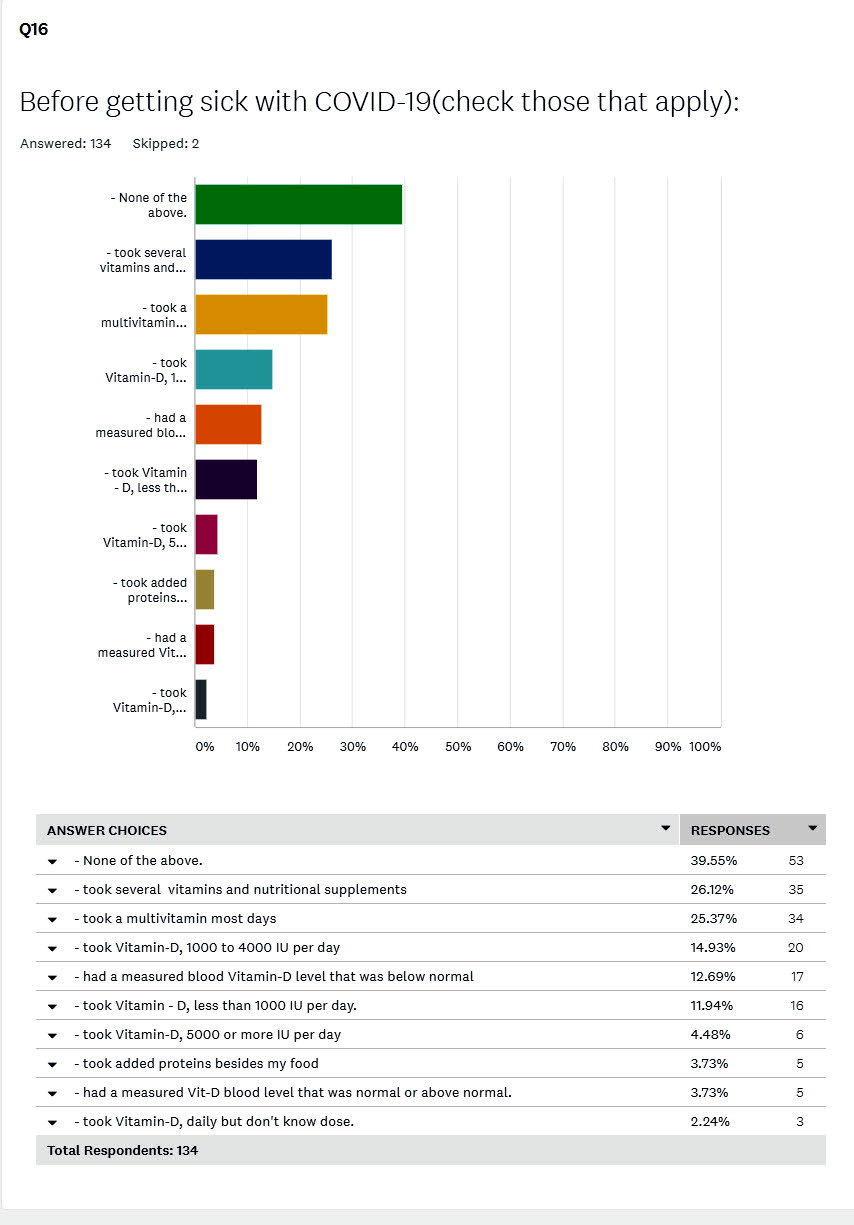 So the majority responded "None of the above." - No vitamins, including Vitamin-D, and no tests of blood levels.
Of course adding all those responses that are other than "None of the above," presents a sizeable contact with nutritional supplements in some form.
The key question is of course, do they make a difference? And more specifically, in the setting of "long-term" COVID-19 ? Are marketed nutritional supplements purchase simply driven by a desire to do all that one can to stay "healthy"?
--------
As already mentioned, detailed comparisons are being saved for later, to allow more efficient "first pass" presentation of the questionnaire and its preliminary results.
But here is a preview of such comparisons.
Does taking nutritional supplements make a difference
in current outcome from the "long-term" COVID-19 illness in this sample of respondents?
Here first are those who ...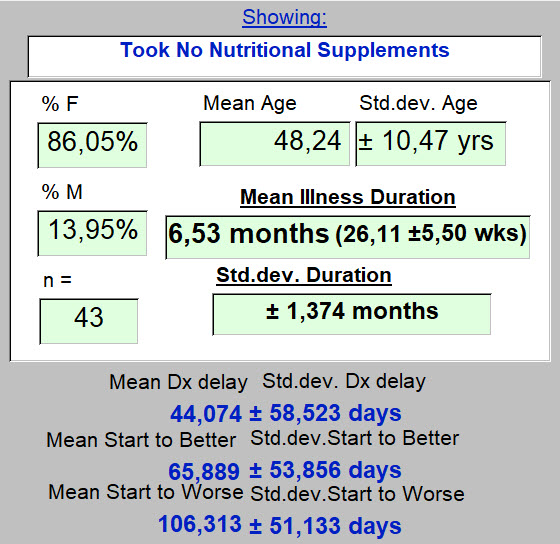 And those who ...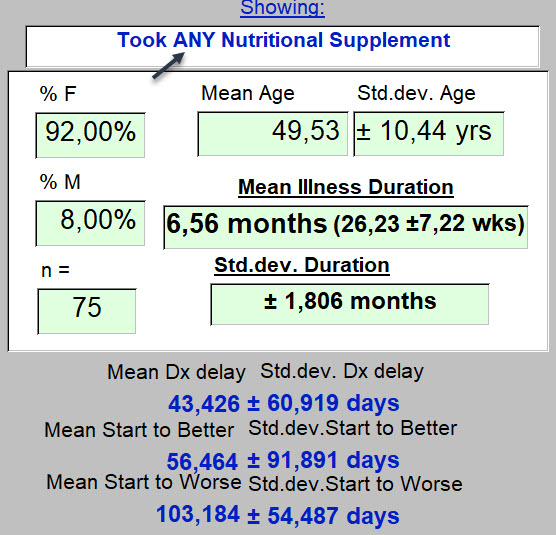 Were there group differences? A total of 118 useable responses.
Age? : No significant difference (NSD).
Gender? : Chi² = 1,060: NSD
Were there outcome differences in mean values obtained with or without supplements?
Duration of illness : No difference as a function of supplement use.
Delay of diagnosis : One day shorter with supplements, but not a significant difference.
Time to start feeling better: p = 0.5403: NSD
Time from start of illness to feeling worse again: NSD
And while not presented here, but later, no statistically significant differences in number of symptoms or organ systems involved as a function of supplement use.
Were any of these analyzd results close enough, that doubling the sample size (or even more) might make a difference? Probably not.
Other specific respondent subgroups, for example those with Vitamin-D serum levels that were normal or not before illness, will be looked at subsequently.
Can these supplements change energy levels at a cellular level? Nothing here to suggest that is happening, but this is not a controlled study of specific supplements.
<<<<< Previous page
Q. 17 - Medications are taken based on which sources of information? >>>>>
Membres qui aiment ce contenu